---
Merry Christmas and a Happy New Year!
I just wanted to take a moment to thank all of you for your support.

I was reading somewhere about a neat idea... The article was saying that while it is great to look forward to things we can improve next year, we should take some time to appreciate the things we accomplished and experienced this year.

I know that I have a tendency to notice all the things I did wrong, or did not accomplish, so for me, this reminder of purposeful gratitude is really important.

Without gratitude, there can be no happiness, and no healing. I think we need to start our healing by being grateful to our bodies for how much they do for us. Even if we have 100 problems, we still have millions of things going right in our bodies, or we wouldn't be alive!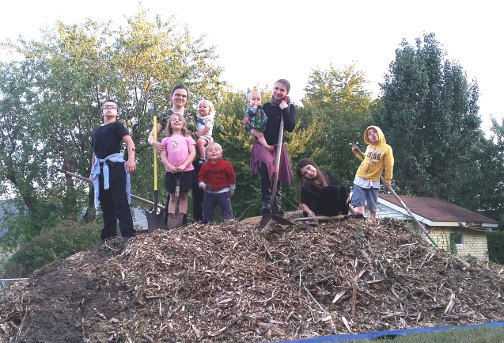 Here is a picture of me with my kids when we got a GIANT pile of wood chips for our permaculture garden that we were installing. I was expecting about one third of that volume. Too bad a third of it is still out there now in the middle of the lawn...

... appreciate the wins! not the deficiencies =)

Wishing you gratitude and freedom from pain!

Mary X. Psaromatis, DC
Dr_Mary@MusclePainSolutions.com
---
P.S. I hope you have a wonderful New Year! New issue, I will share with you my sure-fire sinus infection cure.