Get relief from your pain NOW!
Sign up for Health Bits, my monthly e-newsletter, that gives you 5 minute solutions you can use at your desk.

Discover the 5 areas you NEED to address to get lasting pain relief
Leverage tools you already have to heal yourself
Discover your own customized plan with the included questionnaire
Find out the most common cause of back pain and what to do about it
Learn the secrets I use every day to help people just like you to get freedom from pain!

LIMITED TIME BONUS!
5 STEPS to Freedom
from Debilitating Back Pain


Don't worry, I won't share your email with anyone, and you can unsubscribe at any time.

You can check out back issues here.

Why give away this book, you ask?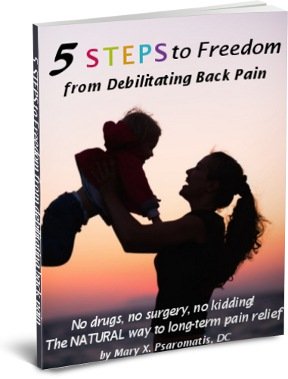 I want to share with you a little of my history. I have suffered from a lot of pain... even starting in elementary school, with more and more debilitating pain as I got older.
In high school, I started getting episodes of low back pain where I had to crawl to the bathroom, and miss a week of school at a time.
For obvious reasons, I became very interested in pain and the human body. I went through pre-medicine, physical therapy, and chiropractic school, finding some things that helped me along the way.
But I still had a non-stop ache in my low back for 15 years! No practitioner that I consulted (and there were many) found my pain.
I continued to study on my own and help patients get out of pain.
I finally found answers!
I found the answer to my 15 year low back pain in a giant red book that I will tell you about in the ebook. I found help for headaches in another place. And found help for muscle cramping in yet another.
I am so passionate about getting this information into your hands. I am continually frustrated that these simple cures are not more widely known. Doctors should be teaching these things!... Health class should be about how to take care of your body and diet!... (ok, I am getting on my soap box again =)
I just want you to get better!
Please... download this ebook and read it, but more importantly... do it! I can't tell you how often I give information to someone and I ask them how they liked it. They tell me, "It was great, I learned a lot". Then when I ask if they did it, they say "Not yet.."
Do it today!
Wishing you all the best in your quest for freedom from pain

Mary X. Psaromatis, DC
Yes, send me my FREE ebook now! I want you to show me how to get out of pain.
What patients are saying:

Dr. Mary's skills as a Doctor of Chiropractic Care rank her among the best of her profession. However, her passion for her work goes beyond the traditional corridors of chiropractic care. Dr. Mary is a healer at her core. Having experienced debilitating pain throughout her life inspired her to explore the mind-body-spirit paradigm of medicine.

Her quest to release herself from physical pain ultimately has come to benefit those of us who are fortunate enough to be her clients. She is one of the most highly skilled practitioners of Trigger Point Therapy, which to my mind, is essential to healing people from pain... new or chronic.

As a 69 year old woman who has endured chronic back pain for over 30 years (from a car accident), Dr. Mary's mastery of trigger point therapy has eliminated the pain I endured for all those years in just 3 months. Her commitment to help others is reflected in the compassion she feels for those who are challenged with ongoing pain. She created this ebook from her heart with the hopes to help as many as possible. I admire her integrity as a human being and as a Doctor and Healer.
If you have given up hope, I urge you to explore her approach. You won't regret it and you will be giving yourself the gift of a life free of pain!

Anna Abraham
Healing Arts Practitioner