My Journey to Find Muscle Pain Solutions
by Mary Psaromatis, DC

You can visit Mary Psaromatis, DC at Natural Healing Center, LLC where she practices as an Annapolis, Maryland Chiropractor.
From my first bout of torticollis (not being able to turn my head due to neck pain) at about the age of 10, through many years of back pain episodes that would drop me to the floor, I have become progressively more interested in alleviating and preventing pain. I started experimenting with massage in middle school to help my mom's back pain, and when I discovered the science of chiropractic in high school, I knew I had found my calling.
During 4 my years at Boston University — getting a Bachelors of Science in Health Studies, focusing on Physical Therapy — and then during my 4 years at Western States Chiropractic College, I was always on the lookout for what would really get rid of my pain, and my patients' pain. I found a lot of things that helped: core stability work, proprioceptive training, stretching, chiropractic adjustments, and massage work. However, it wasn't until I graduated and started doing my own research that I found some really powerful overlooked solutions. Things that had probably been mentioned in passing, but I didn't realize their strength until much later.
One "discovery" that made a huge impact on my life was water... yes, plain old water. I had always made it a habit to drink water, but just not quite enough, and not quite the right timing. Changing this, helped my pain levels, digestive problems, energy, and mood. This is one area that I have spent quite a bit of time explaining, because I feel that this one change alone, can change people's lives. Almost every new patient gets the Mary Psaromatis, DC "water lecture" because I have seen it literally make people look 10 years younger, and wash away a fair amount of pain. I had one patient who came in with pain in his neck, back, and both arms and legs, and one simple thing got rid of it all... water! See, I am starting the water lecture right now. ☺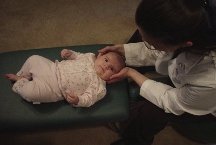 Another huge discovery, was how significantly trigger points can impact people's lives. The back pain I was telling you about... I had at least some pain in my low back every day for almost 15 years... so when I discovered the significance of trigger points, the first thing I set out to do, was find the source of that pain. The responsible trigger points were in the psoas, a muscle that passes in front of the pelvic bones and can only be accessed by (carefully) pushing through the abdomen, by-passing the intestines. The crazy part about this story is that they talked about trigger points and their pain referral in Chiropractic College. I had been worked on by many different people and instructors, but somehow no one found this spot because no one had systematically evaluated all the possible trigger points for my pain. Part of my goal in writing this website, is to put the tools in your hands to be able to do that.
I have had many patients who had their lives changed by learning a few simple ways to treat their bodies better. One patient had daily headaches for 5 years, and had MRI and CT scans of his head, medication, and even exploratory sinus surgery without results, only to find out that it was dehydration and trigger points in his SCM (sternocleidomastoid muscle) creating the pain. How amazing it is for him to know where the pain is coming from, and how to get rid of it himself!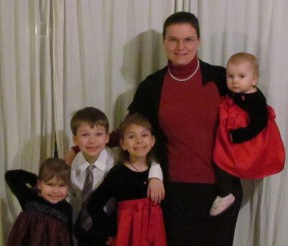 I practiced for 9 years in Oregon in a variety of settings; family practice, house calls, Worker's Compensation prevention in saw mills and chicken packaging facilities, and as an assistant to chiropractic interns.
I then moved to Maryland and worked with and learned Advanced Chiropractic Technique from Dr. William Boro.
I recently started my own practice, Natural Healing Center, LLC which you can visit at NaturalHealingCtr.org.
I spend the rest of my week homeschooling my nine wonderful children and building this site. That is an adventure story to tell as well. ☺
I love to teach people who want to learn. (It's not much fun teaching reluctant chiropractic or community college students.) And I hope to keep as many people from drugs and surgery as possible. My hope is this website will serve that purpose... teaching people not to depend on drugs or surgery for their answers, but to find them literally at their own finger tips!
Contact Mary Psaromatis, DC or make an appointment.
Return from About Mary Psaromatis, DC to Home.
common misspellings: Mary Psoramatis, Mary Saramatis, Mary Saramatis, Mary Soromatis,
Mary Psoromatis, Dr. Mary, Dr. Mary Psaromatis, Dr. Mary X. Psaromatis.